St. Charles Regional Chamber Announces Upcoming Launch of the ShopSt.C Digital Gift Card
St. Charles Regional Chamber Announces Upcoming Launch of the ShopSt.C Digital Gift Card
St. Charles, MO – November 2, 2022 – The St. Charles Regional Chamber is proud to announce the new ShopSt.C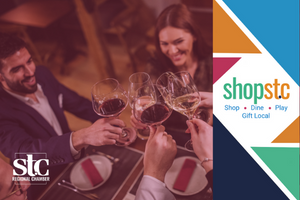 Digital Gift Card, a community-based gift card that makes it fun and easy to keep local spending local. To purchase ShopSt.C Digital Gift Cards and view a growing list of our participating merchants, visit www.shopstcharlescounty.com.
With ShopSt.C eCard, you can write a personal message and send it to family, friends and colleagues via email, text, or a printed physical copy. Recipients can choose to spend it at one of our participating merchants in the St. Charles County region — or mix it up and spend flexibly at multiple locations. All-digital and always available on your phone, the ShopSt.C eCard is great for birthdays, teacher appreciation, coach gifts, or just to show your appreciation to a friend. Now you can give back to the community while you celebrate the upcoming holidays.
Any merchant in St. Charles County (membership not required) is welcome to sign-up. Click here for merchant information. If your business allows manual entry of Mastercard payments, you can probably participate in the program. There is no charge for businesses to participate. To sign up your business and have an activation card e-mailed and/or texted to you, visit www.shopstcharlescounty.com - the sign-up link is at the bottom.